Stovall is Derek Schmidt's third former boss to endorse Governor Kelly, citing Derek Schmidt's politicization of the office of the Attorney General
TOPEKA – Today, former Kansas Attorney General Republican Carla Stovall announced her endorsement of Governor Laura Kelly for re-election. This is Derek Schmidt's third former boss to endorse Governor Kelly for re-election, following Governor Graves and Senator Kassebaum. Schmidt worked for Stovall before running for the Kansas Legislature. Stovall has rarely made public endorsements of political candidates from any party since leaving office.
Stovall served as Attorney General in Kansas until 2003, and received the prestigious Kelley-Wyman award for outstanding Attorney General during her first term as President of the National Association of Attorneys General. Stovall won re-election with 76% of the vote, the highest of any challenged Attorney General race in the country.
WATCH GENERAL STOVALL'S MESSAGE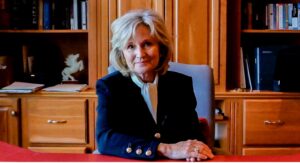 "Since leaving office 20 years ago, I have intentionally stayed on the sidelines for the most part. But the stakes of this election are too high. That is why I am stepping forward today to endorse Governor Laura Kelly for re-election," General Carla Stovall said. "I have seen how Derek Schmidt has used my former office these last few years and I worry he will replicate that in the Governor's office. He uses taxpayer dollars to pursue a particular political agenda that does not respect the views of most Kansans. That's not what Kansans want in their Governor, and that's why I am proud to support Laura Kelly, who puts what's best for Kansas first."
"I am honored to have the support of Attorney General Carla Stovall," Governor Laura Kelly said. "Attorney General Stovall served the state of Kansas well for years, and is a dedicated, and well-respected public servant. I look forward to continuing to work across the aisle to deliver for Kansans with the support of General Stovall."
General Stovall is joined by several other Republican officials and lawmakers supporting Governor Kelly for re-election, including: Republican US Senator Nancy Kassebaum, Republican Kansas Governor Bill Graves,  U.S. Attorney Stephen McAllister, Republican Kansas Governor Mike Hayden, Republican US Senator from Kansas Sheila Frahm, former RNC Committeewoman Alicia Salisbury, Republican Attorney General Robert Stephan, former Republican Representative Jan Kessinger, former Republican Insurance Commissioner Sandy Praeger, over 160 other Kansas Republicans.
###