Governor Kelly walked with supporters celebrating the beginning of fall in the 65th Annual Maple Leaf Festival Parade
BALDWIN CITY – Governor Kelly spent Saturday meeting Kansans to celebrate the beginning of Fall in Kansas. Governor Kelly walked in the 65th annual Maple Leaf Festival Parade in Baldwin City. Governor Kelly met supporters along the parade route, taking pictures and discussing the progress that Kansas has made the past few years.
Take a look at Governor Kelly's day below: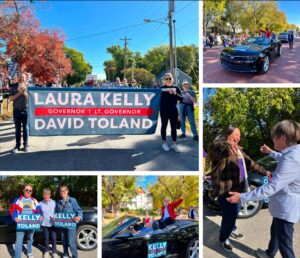 After the parade, Governor Kelly joined supporters in Lawrence for the latest canvass launch. Speaking to a crowd of volunteers, Governor Kelly emphasized the importance of meeting voters where they are and getting our communities out to the polls. Following Governor Kelly's speech, volunteers hit the road to knock on doors to have real conversations with voters about what's at stake this election.